August 2020 Update
from Rep. Ralph Norman
In This Newsletter:
Learn the Facts: 4 major votes on COVID-19
From the Halls of Congress: read about five of the issues I've been involved with over the last few weeks
Rewind: listen to a replay of last week's tele-town hall
Help me to stay in touch with you!
As your Representative, it's important for me to update you on the latest from Congress. My monthly emails reach hundreds of thousands of constituents, and are a great way to keep you up to date.

If you'd like to receive monthly email updates from me, please take a moment to complete this form.
Learn About My Votes on COVID-19
To date, there have been four (4) major bills in Congress on COVID-19. I believe three of the four, including one that needed technical corrections before I could support, were ultimately good for our nation. The fourth bill, which I strongly opposed, is unlikely to become law because it was packed with unsustainable spending and inappropriate policies. You can find all the details on these four bills, including how I voted on each, on my website.
Below are just a few issues I've been involved with during the last few weeks in Congress. If you have any questions about federal legislation, please feel free to reach out to my Washington, D.C. office either online at Norman.House.gov or by phone at (202) 225-5501.
1. Promoting Safety & Security
As a strong advocate for safety, I've recently co-sponsored two new bills in the House of Representatives that will help address the unlawful violence that's taken place in certain cities around our nation, as well as support our brave law enforcement officers. Click here to read about these two bills.
2. Fighting Against Censorship
There's been a lot in the news lately about internet companies censoring what we see online. Unfortunately, there are too many examples of double-standards and unjust censorship, with inconsistent rules that often stifle free speech. Last week I co-sponsored a bill that would clarify laws on censorship and help to hold these big tech companies accountable. Click here to learn more about this important effort.
3. Protecting Air Travelers
Air travel is vital to our economy. As we work to get our nation back on its feet, it's clear we need to try to reduce the spread of COVID-19 through air travel. On that front, I've sponsored a new bill that will help Congress and health officials better understand the degree to which TSA checkpoints could serve, in some limited capacity, as a way to help mitigate the spread of COVID-19 and future pandemics. Click here to read more about my new legislation.
4. Helping Improve Veterans Healthcare
A bill I introduced last year in Congress would create a partnership between the VA and the Dept. of Energy to use supercomputers to help analyze the mountains of medical data the VA has on our veterans. This will help extract better insights from that data, and ultimately help healthcare professionals provide better health care for our veterans. The week before last, this bill took a big step forward to becoming law. Click here to read the press release.
5. Concern Over Our National Debt
Our national debt is quickly approaching $27 trillion, which represents a debt of $204,000 per household in America. I believe our federal spending is out of control and will cripple future generations if we cannot address this serious problem. Click here to read more from a recent letter I co-signed.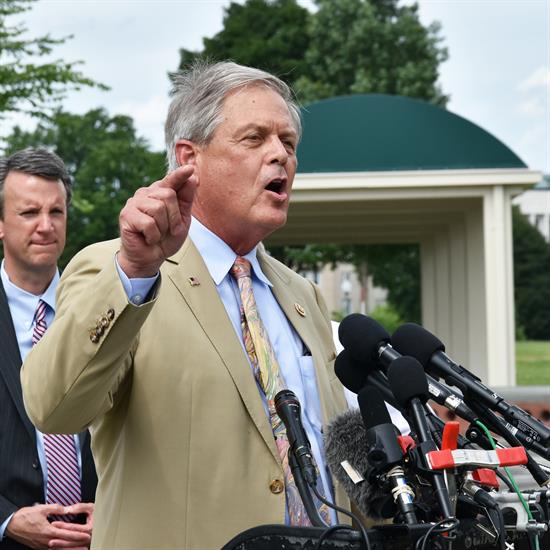 Replay of My Recent Tele-Town Hall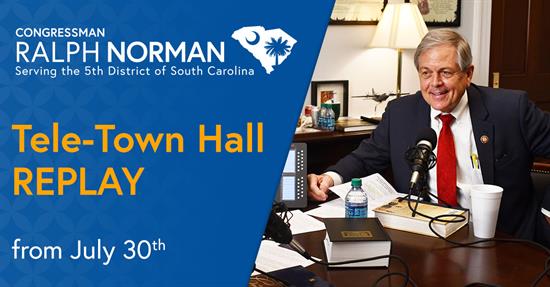 If you missed my telephone town hall on Thursday with thousands of constituents, you can listen to a replay on my website. During this call, we discussed a wide variety of topics, including our response to COVID-19, our economy, jobs, and federal spending.
Do you need assistance with the government?
If you have questions about legislation in Congress, my D.C. office is here to help. In just the last year, we've responded to over 27,000 inquiries from constituents.

Separate from legislation, if you're having trouble with any branch of the federal government, or if you just aren't sure where to turn for help, my congressional office in Rock Hill is ready to assist you.

The most important job I have in Congress is to help folks here at home in South Carolina. Please don't hesitate to reply to this email or click the button below if I can be of any assistance.
You can also like my Facebook page to stay up to date on my work for you in Congress.